i have an insane admiration for artists. i mean they create things that i could never imagine in my wildest dreams let alone physically execute them. from photography to painting to fashion design, i am in earnest awe of every artist.
enter, rebecca rebouche – totally having a girl crush on her lately.
i stumbled upon the louisianna based artists' work on anthropologie with her latest collab, the field & forest scarf.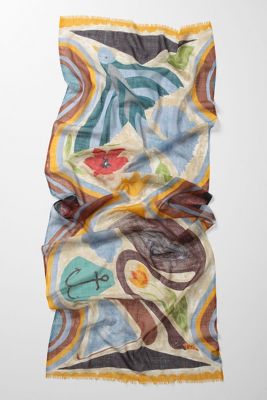 i love ms. rebouche's artwork, which you can check out on her website here. her style is sort of illustration meets quirky, yet incredibly refined…i really don't know how to put my finger on it – hey i'm not an art critic. i just know that i love it. i love her style and can see why anthropologie is interested in collaborating with this particular artist – she definitely puts out that anthro vibe.
the best part? you can read rebecca's blog, follow her on twitter, oh AND purchase her one-of-a-kind pieces on etsy!